Flexibility and Mobility

 is the key to a smooth outdoor production. We offer the best basecamp equipment especially designed for harsh environments.
Our 

inflatable tents

 offer a 

faster setup,

 and a more 

wind resistant 

structure than any other production tent on the market.
Thanks to the unique design you'll want them in the scenes, not just behind them!
BASECAMPS
Our multi-purpose expedition/production tents offers an internal height of two-metres and more than 13-square metres of ground space. Room for 10 persons to sleep or space for a whole lot of equipment, tables, chairs etc. Three partly openable windows and three completely openable doors offers maximum flexibility. Thanks to its outstandingly easy and intuitive handling this is the optimal tent for any production. The whole tent can be setup by a single person in no time. Assembling of parts is unnecessary. Fly sheet and the inflatable frame (IDG) work as a union and enable very quick setup; just unpack and inflate. In case you need to move the tent a shorter distance, you dont even need to strike it down before moving it, just start carrying. Its special geodesic structure is designed to withstand wind speeds up to 180km/h. The frame is extremely robust and stable. Used during Red Bull Storm Chase – the most extreme windsurfing challenge in the world.
Inflating the tents works intuitively and follows a simple principle:
Unroll the tent, close all valves, take one of the valves (whichever one) and pump it up with one of the pumps. Done!
Taking down the tent – just like pitching it – works very quickly and easily. Simply release all valve openings and most of the air will flow out on it's own. Push out the little rest, roll it up, pack it and head to the next place!
We rent out to most kind of productions, mainly in Scandinavia.
The tent is delivered in one piece for easy setup.
Two pumps and tent poles are included in rent.
The tent shall be returned clean and in same condition as when received.
Minimum 3 days rental.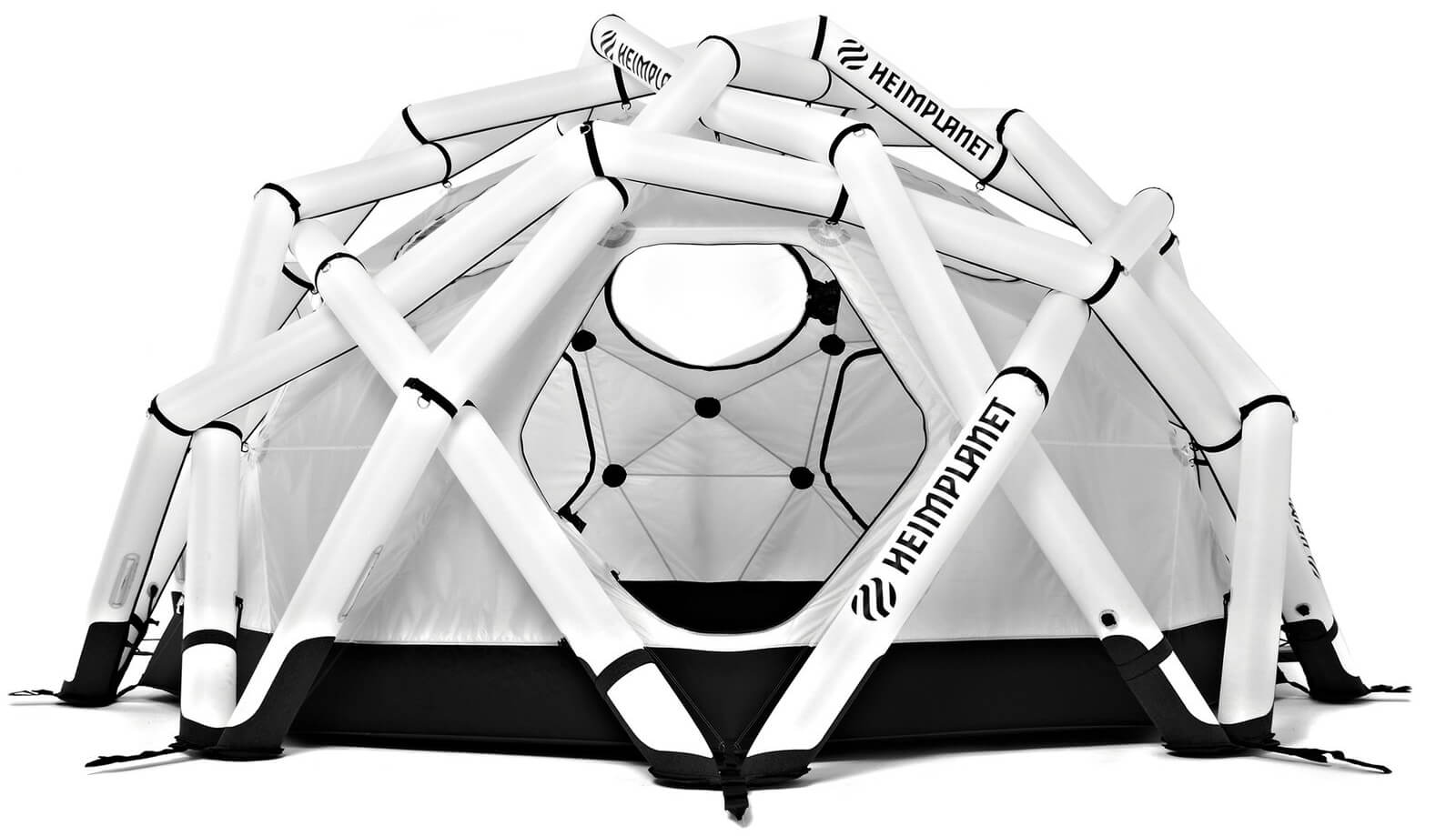 ACCESS & VENTILATION OPTIONS
Three doors ensure easy access under all circumstances. Three TPU-windows allow good all-round view. Several vents at bottom and top offer great ventilation.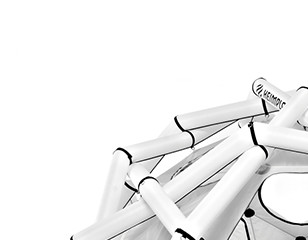 REMOVABLE GROUND SHEET/FLAPS
The lightweight groundsheet can easily be attached and later removed. Snow flaps ensure that the inside is protected from wind, sand and snow at any time.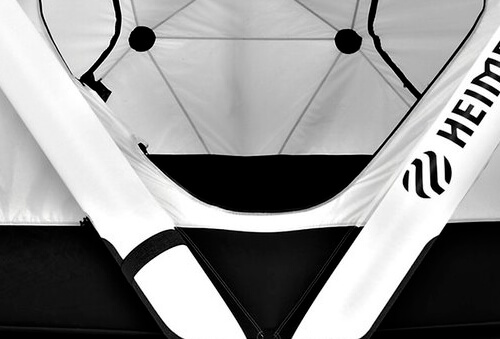 MULTI CHAMBER SAFETY SYSTEM
Double layer air struts and ten chambers offer emergency stability in case of a defect and ensures easy repair / replacement of parts of the Inflatable Diamond Grid (IDG).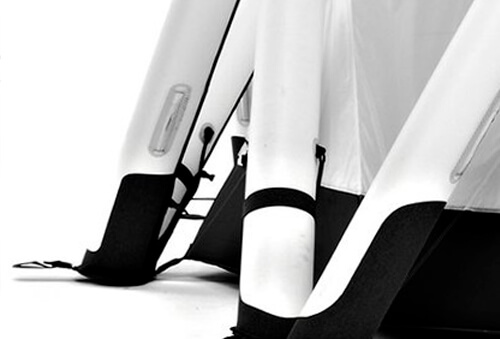 The inflatable frame offers an impressive stability. Thanks to the geodesic principle, guy lines are only necessary in extreme conditions. The structure is designed to handle wind speeds up to 180 km/h, but even if the wind force should exceed the structure's capability, there are no parts that can break due to strong wind.
Inner Diameter: 410 cm (13 feet, 5 inches).
Ground area: 13.2 sqm (142 square feet).
Overall height: 234 cm (7 feet, 8 inches).
Internal height: 200 cm (6 feet, 7 inches).
Pack size: 80 x 50 x 50 cm (31 x 20 x 20 inch).
Weight: 25 kg (55 lbs).
Note: Fit in one carry bag!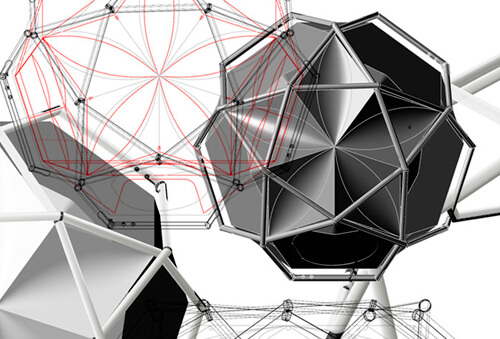 Air Frame: recyclable material.
Outer layer: extra stiff and resistant High Tenacity Polyester.
Inner layer: flexible Thermoplastic Polyurethane.
Fly Sheet: 100% High Tenacity Polyester Ripstop, PU 5.000mm.
Ground Sheet: 100% Nylon Tafetta, PU 7.000mm.
PATENTED MULTI CHAMBER LAYER SYSTEM
Our patented Multi Chamber Safety System
enables you to inflate the entire air frame (IDG) in one single step. Once inflated, the air frame can be divided into separate chambers, which ensures sufficient emergency stability in the event that a part becomes damaged, because all the other airbeams will remain stable.
DOUBLE LAYER CONSTRUCTION
The airbeams are built with a resistant double-layer construction: an extra airtight TPU (thermoplastic polyurethane) bladder keeps the air inside for an extended time and the outer jacket provides support and durability. The outer jacket is made of a high-tenacity polyester fabric, which ensures extra stability and durability.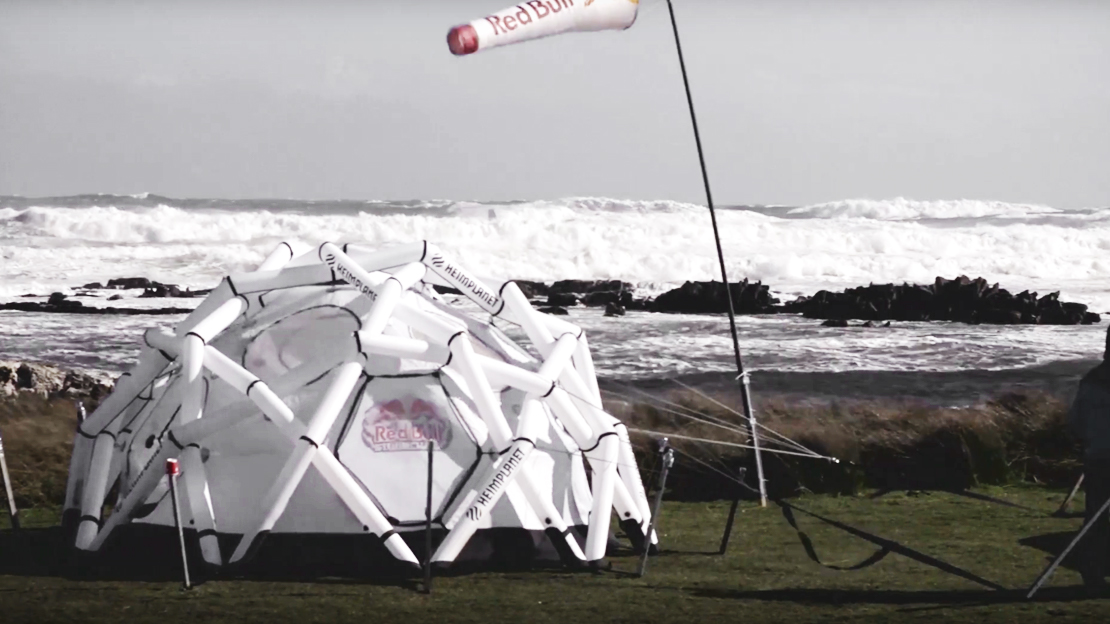 2-IN-1 VALVES FOR FAST INFLATION AND DEFLATION
Each chamber of the IDG features at least one 2-in-1 valve, each with two closures: a check valve for easy inflation of the air frame and a large opening for letting the air out easily. So putting up the tent and taking it down can be done fast and efficiently. Make sure that all valves are closed during inflation, and all are open during deflation.

The tent was used during Red Bull Storm Chase – the most extreme windsurfing challenge in the world. It resists winds up to 180 km/h and provides enough space for the filming- and production crew to store their equipment inside (diameter 4.5 mtrs.), meeting exactly the expectations the Austrian beverage company set up for the development.
With howling winds and temperatures dropping below -30°C, our Earth's southern end is far away from laboratory conditions. But how do you protect delicate scientific instruments in the world's harshest environment? Well, with the world's strongest tent. This was a collaboration with New Zealand scientists to support their climate change research in Antarctica.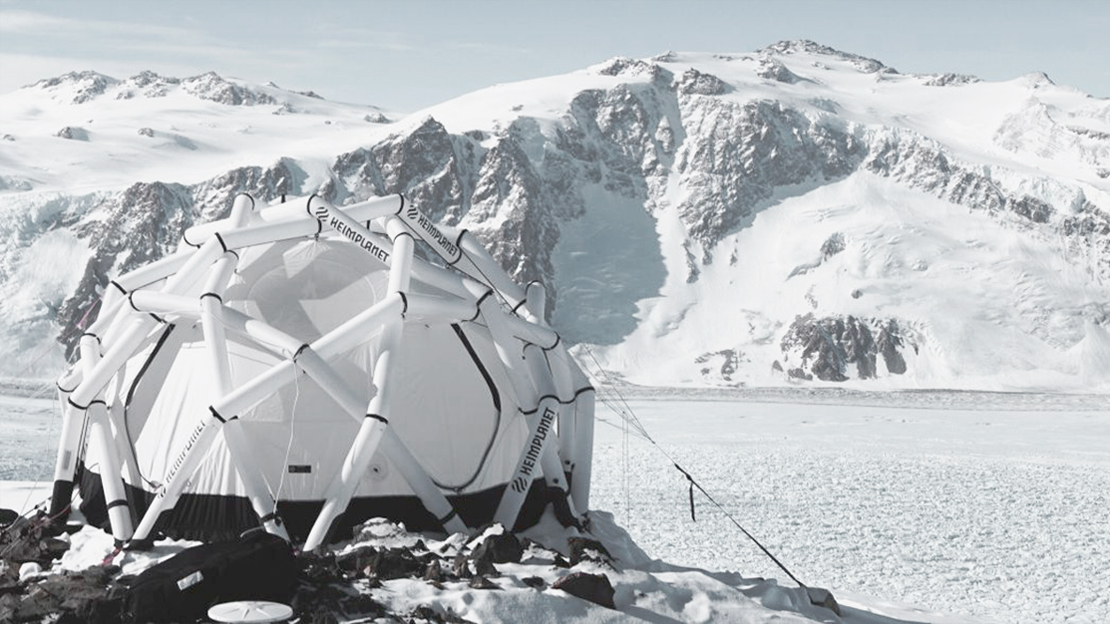 ---
In case of a dropped out professional we can quickly replace a producer, director, assistant, photographer, videographer, stylist, prop designer or make-up artist.
PRODUCE CONTENT BETTER. SMARTER. TOGETHER.
---
Create and send personalised call sheets and track RSVP'.
Robust, customisable shortlist and userfriendly storyboard builder.
Drag-and-drop interface to plan and schedule multi-day shoots.
Manage and send messages to talent, crew, clients and more.
Import scripts and tag elements like props and wardrobe.
Collaborate and comment on tasks, files and production calendars.
Except our skilled, producers, location managers and location scouts, we are connected with guides and locals with unique experience.
Produce content better, smarter, together. We use the world's leading management software for video, photo, TV & film.
You want to join our team of location scouts? We are always in the lookout for freelance talents with an eye for cinematic locations.